A Foodie's Guide to Penang
7 Things to eat on your solo trip to Penang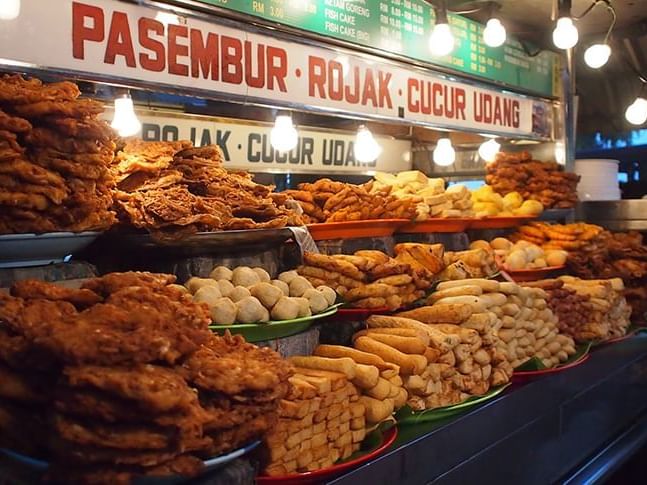 Penang has become one of the most exciting gastronomic hubs not only in Asia but the world. Penang—a western Malaysian state which is comprised of both an island and a portion of the mainland, is also home to a diverse mix of cultures, ethnicities and religions, and its cuisine draws from all those elements.
While there are numerous air-conditioned restaurants to take advantage of, be a little more adventurous and avoid the more formal establishments if you can. Here, street food is king.
In fact, top-notch cuisine served from carts and hawker stalls is so prevalent that if the weather is nice (and it most likely is), you could avoid opening a menu during your entire visit to the area, not to mention that awkward feeling that arises from dining as "just one" in a restaurant. But where to start? These fast-paced and aromatic markets are all serving up some innovative and palate-tingling foods, so here's a quick guide to several dishes you should try while in the area. You'll find them at any outdoor market that serves up sustenance.
Seafood Popiah
Whether you're on the island of Penang or along its western shores, you'll find superbly fresh seafood. This dish takes advantage of Penang's location by stuffing soft, crepe-like spring rolls with shrimp or crab meat. With the addition of cooked radish, fresh vegetables and a sweet sauce, these rolls are so overstuffed (both with food and flavor) that you'll have to eat them with a spoon.
Kway Teow Soup
When we think of street food, we don't often think of healthy food. While delicious, so many of the options you'll pass by in the market are fried with oil and lard, and thus can wreak havoc on your gut (and your waistline!) if you're not careful to pace yourself. A great option for a filling but less greasy meal is Kway Teow Soup. Inspired by Chinese, Indian and Malay cuisines, the soup is usually made with a clear, flavorful broth and boiled (not fried) flat noodles. Added on top is a mix of your choice of goodies, but most locals usually go for a bowl packed with fish cake, fish balls or meatballs and roasted pork. A touch of fresh greens and hot chilies mixed in soy sauce make this soup as complex and interesting as any of the other street food options sizzling away in the woks of nearby carts.
Lor Bak

If you didn't come to Penang to slurp soup, consider this deep-fried dish instead. Any hawker stall serving up plates of this will likely offer you an assortment of crispy vegetables, seafood, tofu, chicken and pork. Unlike Western fried foods that have often been dipped in breadcrumbs or batter, these delectables were instead rolled in a thin beancurd skin. The result is delicate and won't leave your fingers slick with oil. Usually, a plate of Lor Bak comes with two dipping sauces, but make sure to appreciate the five-spice powder each piece was seasoned with first.
Oyster Omelette
Although some less adventurous eaters might balk at the idea of oysters and eggs together, Penang knows exactly what it's doing when it comes to seafood. The mixture of plump, juicy oysters and whisked eggs are fried with a little rice flour batter, which gives it a crispy texture. Served with either hot or sweet sauce, this dish won't remind you even remotely of the cheesy, fluffy omelets that are plopped down in front of us at Western restaurants and diners. The end result looks more like a pile of delicious scrambled eggs.
Char Kway Teow
This dish is not only a Penang staple, it's a Malaysian favorite. The recipe is relatively simple—rice noodles stir-fried with shrimp, cockles (little mollusks that resemble clams), fermented bean paste, chives and bean sprouts—yet the flavor is deeply complex and smoky. Simmered in sweet soy sauce and fried in pork fat, you'll find chefs tossing this in woks over a hot flame on every street corner. Since there are so many options for where to order this dish, do a little browsing first. Some food stalls take a little more time with the preparation, which you can see in the lovely charring of the noodles or in the delicious addition of duck eggs.
Curry Mee

Embrace the Indian heritage of Penang and sit down with a bowl of curry mee, which is referred to as curry laksa in other parts of the country. This is a creamy coconut curry soup that boasts incredibly rich and spicy flavor. Often served with noodles, bean curd, pig's blood curd, cockles, shrimp, fish and bean sprouts, this dish also is complex in texture. Just look around for a nearby cart selling frothy tea or some other cooling sweet treat first, as your mouth might be burning or numb afterwards.
Char Koay Kak
On a final note, while much of the street food in Penang features seafood and meat, it should be noted that vegetarians still have an abundance of options here. While some of the more traditional Indian and Chinese food carts or restaurants in Penang serve many non-meat dishes (or only non-meat dishes), there are still notoriously Penang-style modern favorites that forgo the pork. One of those is a unique dish called char koay kak, which is radish cake (thick, glutinous noodles made from starchy radish) stir-fried with eggs and bean sprouts in a thick, dark soy sauce. Non-vegetarians should try this as well: the dense chewiness of the radish cake easily replaces the need for any meat.
Paige Towers is a writer living in Milwaukee with her husband and a pack of rescue dogs. Her writing has appeared in The Harvard Review, The Baltimore Review, McSweeney's, Midwestern Gothic, Prime Number, and many other publications. You can read more of her work on www.paigetowers.com.