HOTELS WITH HEART
The Hotels with Heart Foundation is the official philanthropic initiative of St Giles Hotel Group, which aims to give back to the communities and people who sustain us.
Born out of the desire to breathe a deeper meaning into the purpose and raison d'être of the St Giles Hotels Group, Hotels with Heart aims to be more than corporate social responsibility. Instead, we have set ourselves the bold challenge to give back more than we take, through our One Community Campaign.
We call it "Regenerative Hospitality", and it is our core commitment to serve not only our guests, but the communities, people, and ecosystems around our hotels.
Our One Community Campaign has 5 goals:
✓ To help end rough sleeping and ensure that everyone has safe shelter
✓ To provide opportunities for marginalised people to get back into the workplace
✓ To volunteer our own time, expertise and resources to improve our local areas
✓ To champion less-privileged young adults and support their welfare, wellbeing and education
✓ To support the communities that envelop our hotels and take care of our essential ecosystems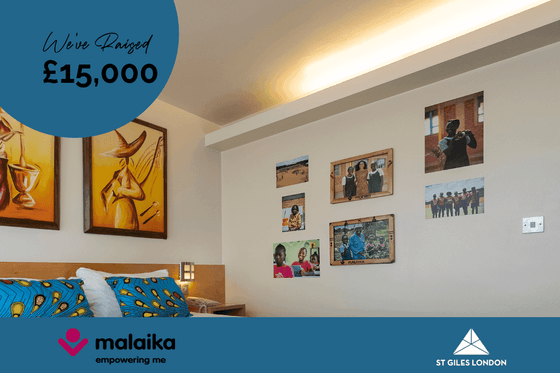 Raising Funds for Maliaka
Through Hotels with Heart, St Giles London raised £15,000 for Malaika, a nonprofit empowering girls and their communities through education and health in the Democratic Republic of Congo. St Giles CEO Abigail Tan and Malaika's founder, Noella Coursaris and her team partnered to re-imagined one of the executive suites into The Malaika Suite featuring curated artwork, wooden masks and other accents from the DRC for guests to enjoy a one-of-a-kind experience, raising £15,000 for the charity.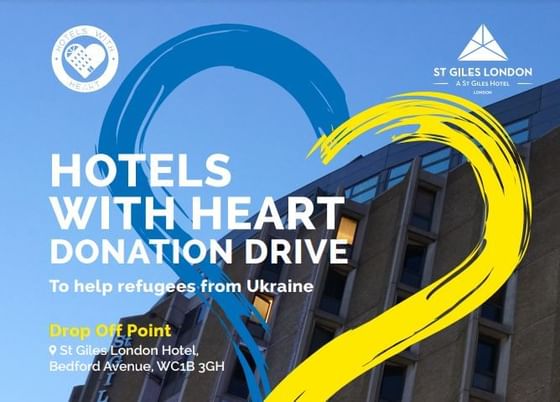 Donation drive for Ukraine
With the humanitarian crisis in Ukraine, Hotels with Heart, St Giles' charity initiative, raised funds and collected essential items to support relief efforts for the vulnerable and displaced. Items donated were given to White Eagle Club in Balham. 100% of monies donated went to The Voice of Children Foundation, which focuses its effort on helping children affected by giving psychological and psychosocial support.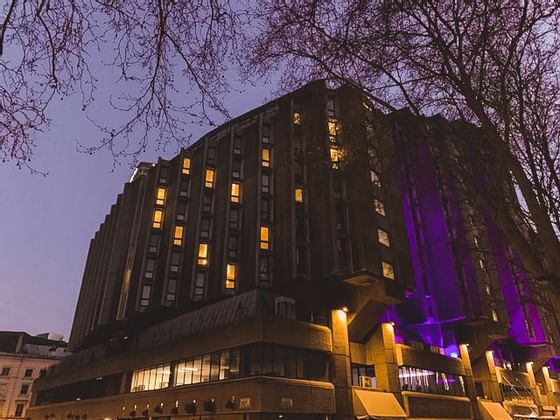 UPLIFT FUND
To help alleviate the unexpected financial burden of the pandemic on team members, St Giles Hotels U.K. leadership team, spearheaded by CEO Abigail Tan, created the Hotels with Heart Uplift Fund in May 2020. The fund raised almost £2000. 100% of the funds raised were used to benefit team members with essential purchases.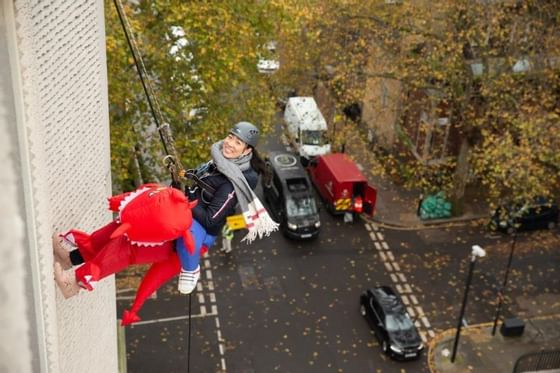 Abseil for Charity
In 2019, CEO Abigail Tan and staff, guests, and friends of St Giles London abseiled down the hotel's building for Hotels with Heart 3rd Annual Abseil for Charity event to raise funds for Street Child United. The event raised over £7000.