Bespoke Artwork: Only to be seen at St Giles London hotel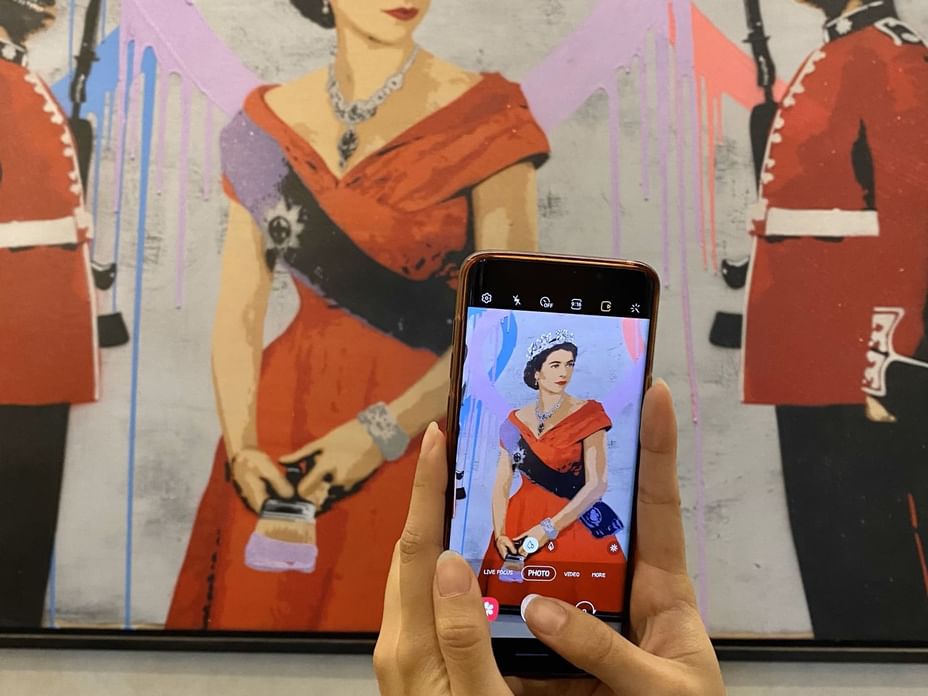 Pegasus, a North London street artist originally from California, spent three months working on the bespoke pieces and two months creating outlandish uniforms for the front-of-house staff. The artist, renowned for playing with popular culture's most recognizable icons, chose to immortalise The Queen, Amy Winehouse, Naomi Campbell and David Bowie in artwork, which will be available for tourists and Londoners to see in the 675-room Tottenham Court Road property.
Each work features a portrait of a London legend holding a dripping paintbrush with a neon, graffiti-style heart behind them, giving the illusion that the subject of the painting has created the guerilla art themselves. The heart theme was developed in line with the St Giles Hotels charity, Hotels with Heart.
Queen Elizabeth II: created during her long reign, this artwork was created to honour the true inspiration and to create a symbol of her love and continuity throughout her reign.

Amy Winehouse: The first person Pegasus ever painted and having inspired his artist name, the connection he has to Amy Winehouse bears a special place in his heart and therefore this portrait is a very special addition to the collection.

David Bowie: the iconic trendsetter, genius lyricist known for pushing boundaries right from the start. You can see this incredible piece of art in the lobby of St Giles Hotel.

Naomi Campbell: supermodel of the world, fashion goddess in human form. A symbol of diversity and power, Naomi Campbell is a true ambassador for spreading love, throughout the world and now in our lobby area of the hotel.

Adele, Kate Moss and Elton John: this three piece series displayed on the king and queen of hearts playing cards, symbolising their command of their fields with creativity and heart.

Queen of People's Hearts: a stunning tribute to Diana, Princess of Wales, known as the queen of our hearts. Shown in regal and compassionate manor, Diana now lives on in the hotel through this beautiful art piece.
On your next visit to St Giles London hotel, look out for the incredible art pieces by our artist in Residence, Pegasus! Don't forget to tag us @stgiles_london in your selfie with your favourite icon found in our lobby, and guest lounge