Staying fit while enjoying your holidays in Central London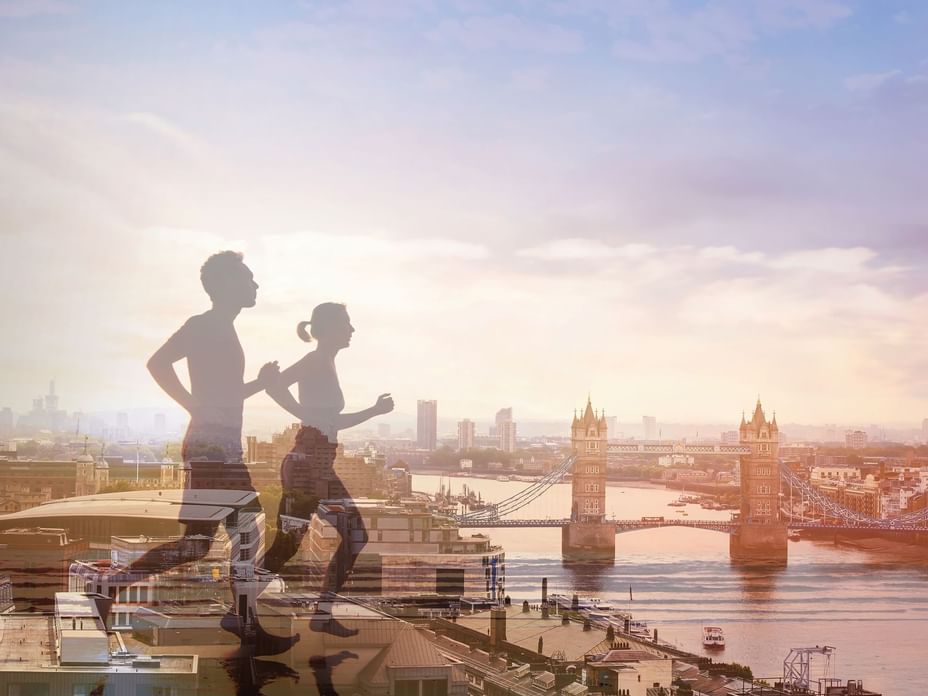 Your long awaited trip to St Giles London hotel is finally here, but you don't want to mess up the daily fitness routine you've been trying to maintain back at home. One question comes to mind, "is it possible to stay fit while still enjoying your holiday?" We have gathered just for you some of the best spots in Central London where you can enjoy a healthy meal, de-stress or get the most out of your workout.
Fancy a wholesome meal?
We all know how difficult it is to resist the local cuisine — especially if you're a foodie traveller!
Luckily, our concierge has got your back and listed a few fan-favourites located at a walking distance from our hotel:
1 minute away, Ole & Steen
Freshly baked products, made from scratch, at this Danish bakery just around the corner!
4 minutes away, Ahi Poké Fitzrovia
Take out restaurant selecting the best sustainably-sourced fish for its signature Hawaiian bowls.
3 minutes away, Planet Organic
Fancy organic, natural and sustainable products? Perfect for quick healthy meals and snacks.
7 minutes away, Scarlett Green Soho
Enjoy a brunch Aussie-style, with strong influences from Melbourne and Sydney café culture and seasonal options alongside classic brunch staples.
10 minutes away, 26 Grains
26 Grains is home to wholesome porridge, smoothie bowls, bircher muesli and coffee.
10 minutes away, Bloomsbury Farmers' Market
Open every Thursday from 9am to 2pm, at this farmers' market you will find fresh produce and street food made with local, sustainable ingredients.
15 minutes away, Whole Foods Market Piccadilly
Supermarket that offers organic, plant-based food & more, with one Mexican eatery and pizza bar.
20 minutes away, The Good Life Eatery
Health is wealth at the Good Life Eatery, featuring green juice shots, smoothies, superfood salads and acai bowls.
25 minutes away, Daylesford Organic
This Marylebone farm shop is stocked with organic seasonal groceries, fresh bread, artisan cheese and more, delivered daily from their farm in the Cotswolds.
Combine fitness with fun
Fitness should be fun, especially when you're travelling. Gymbox is home to the most unique and diverse classes in London, Olympic sized boxing rings, combat cages, movie screens and live DJ sets. Dancebuzz offers all popular types of dance classes, from salsa to belly dancing. Good Gym is run by a group of local residents who run, walk or cycle to help out community projects in Westminster.
Need to de-stress?
Sometimes you need an escape within your escape and, luckily, in Central London you are never far from a yoga studio or wellness centre! Experience Yoga in YMCA's brand new studio, which is adjacent to our hotel. For Pilates and Barre classes, check out Fly LDN. Or you can get zen and experience Ashtanga Yoga at Find The Balance. For some reviving body massages and scrubs, Lush Spa is the one for you.
Ready to get sweaty in the sunshine?
Jog along the scenic nature route. The closest green spaces are:
Russell Square (0.5 miles)

Regent's Park (1.1 miles)

Hyde Park (1.5 miles)
If you like running with a sports buddy, you can join a free run club. Nike+ starts from either Nike Central Kings Cross or Niketown Oxford Street and heads through the streets of Central London.
Cycling is fast becoming a way of life, and you can now hire a Santander Cycle and ride your way around London from as little as £2.00. You can pick up or drop off a bike at any docking station and the nearest one to our hotel is less than two minutes away.