VAN GOGH EXHIBIT IN LONDON: THE IMMERSIVE EXPERIENCE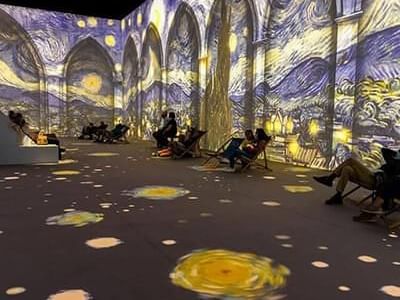 Step into the world of Van Gogh in this immersive experience close to the centre of London. You will experience 360 projections and virtual reality as you walk around the venue, feeling as though you are stepping into the artists most famous paintings. Take the whole family to visit the stunning stable building from the 19th century for an exciting, interactive and immersive experience. You can even explore your creative streak and get involved with creating your own paintings and pictures which you can put on display in the studio. Make it even more special by requesting one of their services such as guided tours, photographer, family activities and more, or get a group together to visit all together.
106 Commercial Street E1 6LZ London United Kingdom
Monday10:00 - 20:00
Wednesday10:00 - 20:00
Thursday10:00 - 20:00
Friday10:00 - 21:00
Saturday09:00 - 21:00
Sunday09:00 - 19:00
Be the first to know
Sign up to receive specials offers and promotions in your inbox.