Business Lounge
Where you work, dine, unwind in Style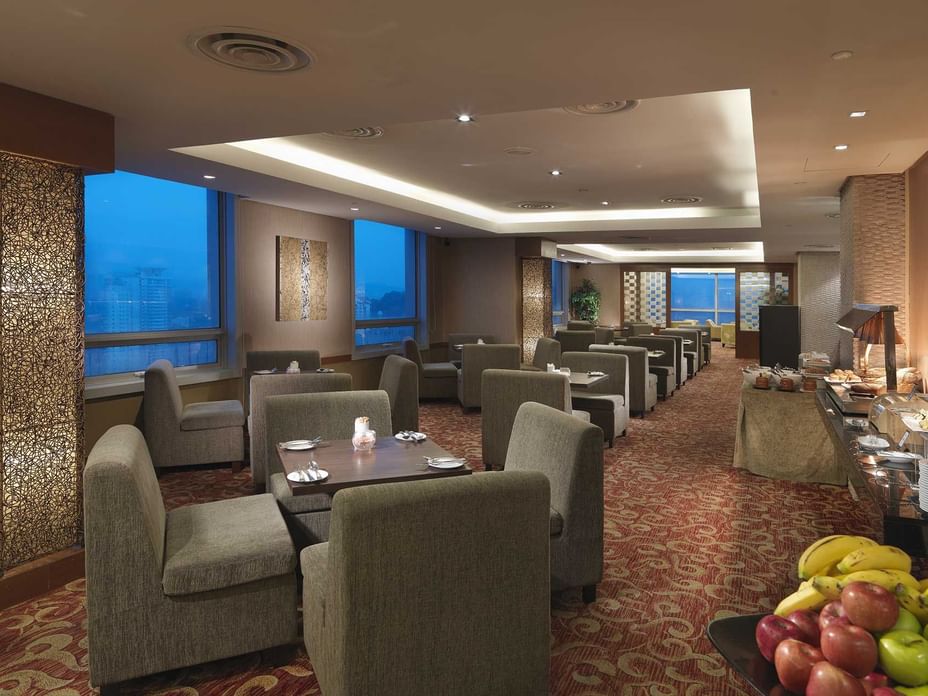 Situated on the 26th floor, our Business Lounge is a haven of productivity and relaxation for in-house suite guests.
Refuel your body in the morning with:
Breakfast - from 6.30am to 10.30am. Alternatively, you may choose to enjoy breakfast at Wildrice Restaurant, located at Level 9 from 6.30am to 10.30am. Additional breakfast will be charged at RM35.00+ per person.
Unwind in the evening with:
Evening Refreshment from 5.00pm to 7.00pm. An additional person will be charged at RM150.00+.
You can also enjoy complimentary soft drinks, juices, tea, coffee, and cookies throughout the day.
Other Benefits
Complimentary welcome soft drinks are placed in the mini bar fridge in the room.
Discount up to 10% on Food & Beverages including alcoholic beverages but not in conjunction with any other promotion.
Complimentary usage of the Business Lounge's Boardroom for one hour (Per Night Stay). Business Lounge's Boardroom is limited to meetings and discussions not involving members of the public, walk-in interviews, sales events, exhibitions, product/services launch events and/or media interviews.
The Management has a right to refuse an event which may compromise the exclusivity of the Business Lounge and/or cause discomfort to any Business Lounge guests.
Dress Code
For the comfort of all guests, Dress Standards apply at all times in the Business Lounge. SMART CASUAL ATTIRE ONLY. Kindly refrain from wearing shorts, sleeveless tops, nightwear, bathrobe, or slippers, as we aim to maintain an atmosphere of elegance and refinement.
Child Policy
Our Business Lounge is designed to provide a relaxing environment for our guests. Children under twelve (12) years & above are permitted to patronage the Business Lounge
Food & Beverage
Outside food, beverages, and takeaway are strictly not allowed.
Lingkaran Syed Putra 59200 Kuala Lumpur Malaysia
Opens from 6.30 am till 10.30 pm.
Be the first to know
Sign up to receive specials offers and promotions in your inbox.