Explore Penang
Nestled in the heart of Georgetown
Nestled in the heart of Georgetown, St Giles Wembley hotel is an ideal spot from which to discover Penang. Set 33.4 km from the excitement of the city, this 4-star hotel commands an excellent location and provides access to the city's biggest attractions. With its convenient location, the hotel offers easy access to the city's must-see destinations. Let's explore the best things to do in Penang.
The Wembley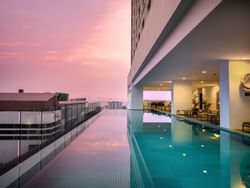 Amidst the hustle and bustle of the city, luxuriate in the elegant and welcoming surroundings at The Wembley – A St Giles Hotel, Penang.
Be the first to know
Sign up to receive specials offers and promotions in your inbox.